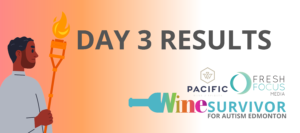 Weeeuuuuuu! It is officially Wine Wednesday! Looks like it's time to "wine down" and check out who's still surviving! Today we saw another 150 numbers drawn and TWO teams eliminated. Sorry MARC Maniacs & The Vintage Sisters. Don't be too sad; you have headed to exile island, where you still have a chance to be a winner!
Being picked first always feels nice; congrats to Steve from the team "The Ming Dynasty Vball Champs," who has won a bottle of wine just for having their name drawn first!
We wish everyone a beautiful hump day and all the strength as we navigate the rest of this week and the holiday season. Click here to check out today's results: https://bit.ly/3UAQrH5
Catch ya on the wine side tomorrow!